Over View
Qualcomm at its annual Snapdragon Summit kicked off its latest flagship SoC Snapdragon 855 which will power flagship smartphones coming with 5G connectivity. In this summit a bunch of 5G related announcements were there. At the end of presentation , Alex Katouzian, SVP and General Manager of mobile at Qualcomm some of the features of their next flagship mobile platform.
Features
The key feature of Snapdragon 855 is 5G Snapdragon X50 modem which would enable 5G support with "multi-gigabit" mobile data speeds of up to 50 or 100 times faster than current.
The Qualcomm Snapdragon 855 features company's dedicated 4th Generation AI engine so you can expect some really cool features such as object and face recognition and power new video capture features and would deliver three or four times the AI performance as compared to previous generation. The SD 855 just like Kirin 980 and A12 bionic chip is build on 7nm architecture so you would be getting great performance with great battery life. Qualcomm claims Snapdragon 855 would give a performance boost as compared to last year's 845 and would provide 2 times better performance as compared to recently announced Huawei Kirin 980 and Apple's A12 bionic chip.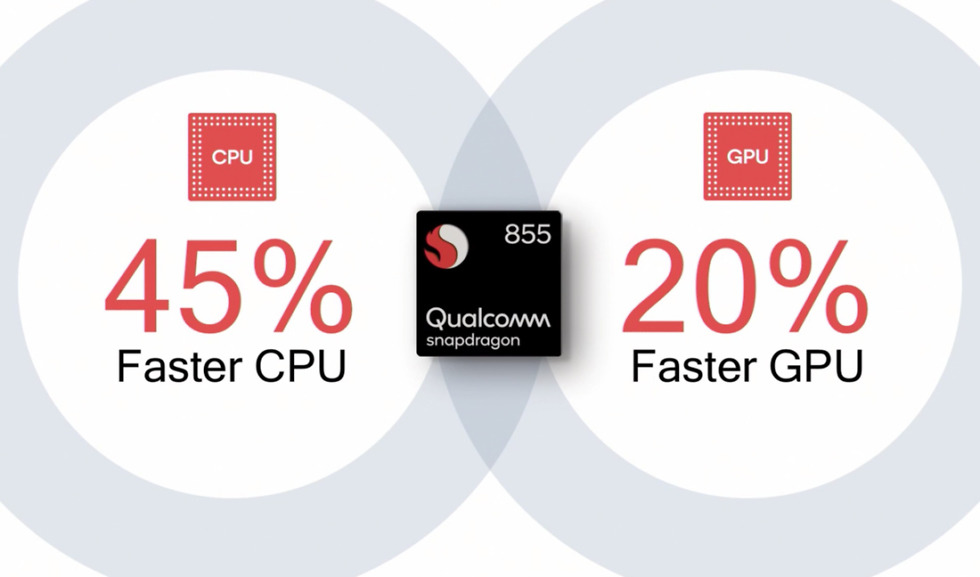 Following the likes of Kirin 980 Snapdragon 855 also packs in a dedicated "Neural Processing Unit". Qualcomm also said that Snapdragon 855 would feature World's First Computer Vision ISP that would help in seen recognition in addition to AI engine.
Qualcomm also introduced ultrasonic fingerprint scanner naming "3D Sonic Sensor"  to authenticate fingerprint through the glass of screen. This will actually capture full 3D image of your fingerprint rather than a 2D image like most rivals. The new flagship SoC also brings support for "Snapdragon Elite Gaming" technology to give better gaming experience. So you  can expect high quality video and audio without compromising on battery life
Samsung also announced that they would be launching a fully 5G ready smartphone in early 2019 and we can expect Galaxy S10 would one of the first phone to come with Snapdragon 855 and Qualcomm is in talks with leading OEM's like Huawei, OnePlus so you can expect all these devices to pack in Snapdragon 855.
Summary
Qualcomm is all ready to set a benchmark by launching Snapdragon 855 which will be performance beast including some major features such as:
Full 5G support
4th Gen AI engine
7nm architecture
Dedicated NPU
Ultrasonic In display Fingerprint Scanner
Snapdragon Elite Gaming